Napkin ring
I created a special jig to hold it in the lathe:(inspired by a video by Bob Hamilton: bobham5)
I took an oak cylinder I had turned earlier, drilled a 1″ hole in it and turned the outside diameter to 1 1/2″ to match the the inside diameter of the napkin ring to be.
on the band saw I cut four slots to make it into an expansion jig (expanded by the live center on the tail piece)
and then chose a scrap of japanese maple left over from the turning of the japanese maple bowl and drilled a 1 1/2″ hole in it.
Trimmed it on the band saw and mounted and turned it on the expansion jig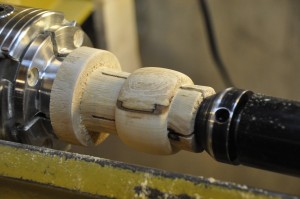 I finished it with beeswax and carnauba wax.